How Does a 4-Line Phone System Work?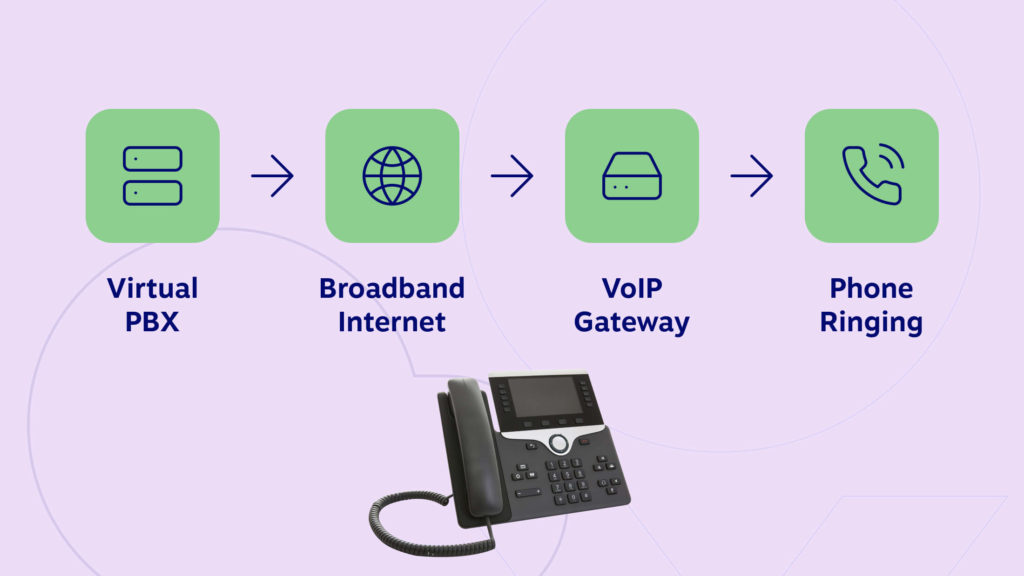 If your business requires more lines than a 2-line system, a 4-line phone system is your best bet. Each jack can hold up to 2 lines and they can be separated with a decoupler.
Analog multiline systems are based on old landlines and run on existing wires (yellow and black). Callers get busy signals if all lines are taken and the calls go directly to voicemail.
PBX
A business four-line phone system runs four analog (or landline) phone lines through your office. These lines can be internal or external, allowing your team to communicate with each other and customers. These systems offer many upgraded features, including voicemail to email, call recording, and conferencing. Most systems also support softphones, a feature that allows employees to make and receive calls on their smartphones or tablets.
PBX, which stands for private automatic branch exchange, is an old-fashioned telephone system that used to be run by human operators who connected calls with a series of wires. Today, these systems are automated, and the connections between the phones are made by plugging signal signals into connectors. This type of phone system is an ideal solution for small businesses that want to keep costs low and still have the ability to make and receive calls using traditional handsets.
A four-line phone system can help your business grow without the need to add extra phone lines. It can handle up to four incoming phone calls at a time. The PBX can then distribute those calls to different extensions or groups within your company. This can improve efficiency and make it easier for your team to collaborate on projects.
This system is a great choice for small businesses that need to transfer calls between departments or individual employees. It also allows you to create custom greetings that can help your customers find the information they need. It can also allow you to connect to your employees' mobile devices, which can increase productivity and customer service.
One downside of this type of system is that it requires a significant investment in hardware, and it can be costly to upgrade. It also has limited call features and may not provide the functionality your company needs. Whether this type of system is right for you depends on your budget and the size of your organization.
Another option is to use a cloud-based multi-line phone system, which operates over the internet instead of traditional phone lines. This can save you money and time, as well as eliminate the need to hire a full-time technician to maintain your system.
VoIP
A VoIP multiline phone system can give you all the benefits of a traditional private branch exchange or PBX phone system without the high costs. VoIP systems use your existing internet connection to create call channels and deliver clear audio. In addition, they often come with support for other business communication channels like SMS, video conferencing, team messaging, and Facebook Messenger. VoIP systems also save your business money with pay-as-you-go pricing. They also offer lower rates for long-distance calls.
Unlike landlines, which have to be connected through an analog circuit-switched network, VoIP systems connect over the public internet. This means that calls may travel over several different networks, which can lead to latency and poor quality. To avoid this, choose a VoIP provider that offers a private packet-switched network or uses a private datacenter.
VoIP multiline phones connect to a local business network using a small device called a VoIP adapter. The adapter converts the analog audio signal into a digital signal, which is then sent over the internet. Using VoIP, you can make calls across the country or around the world with a high level of audio quality. The quality of your VoIP calls depends on the strength of your internet connection. If you experience jitter or other issues, consider upgrading your broadband service to improve your performance.
In addition to reducing the cost of business calling, VoIP multiline phone systems are more versatile than their landline counterparts. They allow you to move employees to other offices or even work from home, as long as they have access to a reliable internet connection. This flexibility is great for businesses that need to scale quickly or accommodate seasonal fluctuations in business activity.
A four-line phone system is ideal for small or midsize companies that receive a high volume of customer calls or use call center services. This small business phone systems 4 lines can help them increase efficiency and provide a more professional appearance by offering features such as auto-attendants and conferencing. Additionally, it can allow them to transfer calls between departments and answer multiple lines at the same time.
Analog
Four-line business phone systems are a great choice for small and midsize businesses that need to handle many inbound calls, such as a sales team or customer support. These systems can also be easily scaled in groups of four, making it easy to add new employees as the company grows. In addition, four-line systems offer a range of capabilities and solutions that make them a great choice for a variety of industries.
Traditional analog lines are voice circuits that transmit signals using copper wires. The lines connect to a local phone company's central office, which houses telephone switching equipment. The lines then connect to the Public Switched Telephone Network (PSTN). This type of line is known as a simple analog line, or plain old telephone service (POTS). It's been around for decades and continues to work the same way it did more than a century ago.
To use an analog line, you plug a phone or fax machine into the phone jack at your location. Then, you use the phone's keypad to dial a number. An electrical current is sent to the on-hook phone when a call comes in, which activates the phone's bell and makes it ring.
An analog system requires an on-premise PBX with one or more analog lines. The PBX system creates an internal phone network that connects employees, which helps reduce costs by allowing everyone to share the same phone service. The PBX can also route calls between internal and external lines, which helps businesses save money on long-distance charges and installation fees.
However, it's important to understand the limitations of an analog phone system. These systems do not have the capacity to handle high-definition audio and other modern-day features. They're also prone to issues such as jitter and noise, which can affect the quality of a call.
Another drawback of an analog phone system is that it's only available where there are copper wires. This means that voice and data signals can only travel as far as the copper wires will allow. To travel longer distances, you need to install a repeater. This can be expensive and time-consuming.
Digital
A digital phone system converts audio data into packets and sends them over the telephone wires to your destination. It is one of the most popular options for small businesses because it allows you to handle multiple calls at once, which helps you stay more efficient. In addition, digital telephony offers clearer sound than analog phones and a lower error rate. However, it requires a high-speed broadband internet connection for proper operation.
Old-style analog phones use a copper pair of wires to connect your office to the local telephone company's switchboard. The switchboard operator sat in front of a board with a jack for each pair of wires and above each jack was a light. The operator turned the lights on and off to route calls to different employees or locations. The switchboard also contained a number of programmable buttons to control how the lines worked.
Today's digital multi-line telephone systems use a computer to digitize the sound of your voice. The digitized sound is then combined with millions of other voices on the long-distance network. This network allows people across cities, countries and even continents to communicate with each other. A digital signal is more reliable than an analog signal, which can be prone to jitter and static.
The KSU (key service unit) in a multi-line system is the hub that controls all of the incoming and outgoing lines. It is typically located in your office or in a closet or other area where it can remain quiet and unobtrusive. The KSU has a red and green pair of wires connected to it. The red wire provides power (6 to 12 volts DC at about 30 milliamps) and the green wire transmits your data over the telephone network. The KSU connects to the phone lines and the phones through the same pair of wires. It also supplies the ring-signal AC current to generate the ringer sound on your phone.
Choosing the right multi-line telephone system depends on how many lines you need for your business and the type of features you want in place. For example, you might need caller ID or a message waiting indicator that alerts your team to return missed customer calls. You might also want a centralized voicemail or a central auto attendant, which help you stay organized and ensure that your customers always get the best possible customer service.
If your business requires more lines than a 2-line system, a 4-line phone system is your best bet. Each jack can hold up to 2 lines and they can be separated with a decoupler. Analog multiline systems are based on old landlines and run on existing wires (yellow and black). Callers get busy signals if…
Recent Comments
No comments to show.